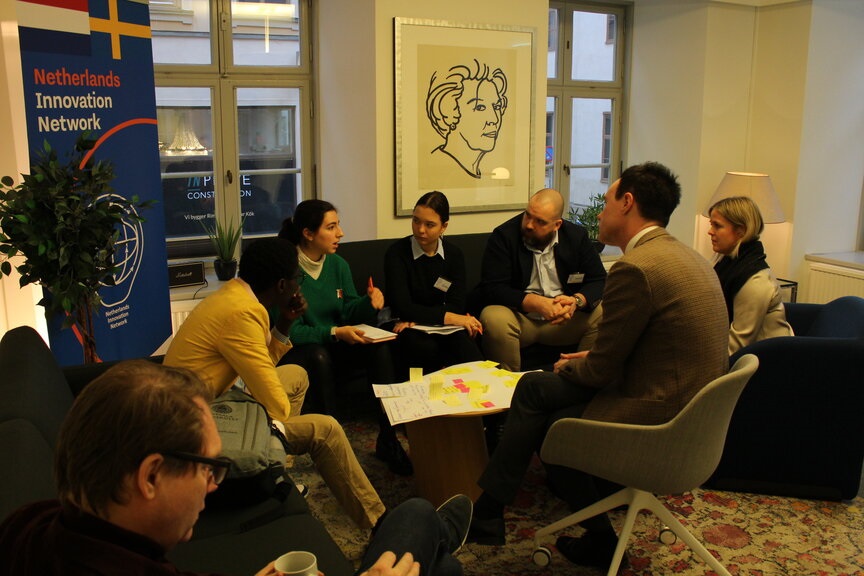 ReThink Retail – A student challenge based on designing a sustainable and prosperous future for European Shopping Malls
Did you notice that there are limited opportunities where students can learn how to look across their own country's border when it comes to solving challenges that the Built Environment sector is facing, even though its actors are currently experiencing similar challenges across Europe?
To change that, the Innovation Department of the Dutch Embassy in collaboration with Unibail Rodamco Westfield (URW), premier global developer and operator of retail destinations with a portfolio valued at €55 Billion Euros, organize a Dutch-Swedish-Danish multi-disciplinary challenge-based learning student event at the Dutch Embassy in Sweden and URW newest flagship retail destination that is currently in the making in the North of Stockholm!
Are you interested in developing a sustainable future of the European retail sector along-side 23 other multidisciplinary top Master students from the Netherlands, Sweden and Denmark?
Then you should read further!
A challenge for all of Europe
The recent decade substantially changed the retail sector. Alongside changed shopping behaviors, new demands for circularity and sustainability, shopping mall owners such as Unibail Rodamco Westfield are currently undergoing a substantial "ReDesign" of their assets including changed physical look, offer and tenant structures to adjust to a new reality and prepare for an improved and prosperous future.
This "ReDesign" process requires fresh and young minds like you that can think out of the box and beyond what is exciting today!
Copenhagen, Amsterdam and Stockholm continue to grow
Until 2050, most European Metropolitan cities are expected to grow, including Copenhagen, Amsterdam and Stockholm.
In Stockholm, particularly the North of Stockholm surrounding the municipality of Täby and the shopping Center Westfield Täby Centrum is expected to cater to this new wave of growth.
"How can Westfield Täby Centrum meet the needs and wishes of its stakeholders for a sustainable future?"
This is the task URW, owner of the Europe-wide known retail flagship centers Westfield Mall of The Netherlands, Westfield Mall of Scandinavia and Fisketorvet in Copenhagen is currently actively working with.
Now, URW, asks your help in finding possible answers to this question by inviting you to apply to this exciting challenge! It is expected that your answers will inspire other shopping centers throughout the world.
You are invited to become part of the solution
In small teams with students from a variety of relevant disciplines and the help and guidance of expert managers from URW and the process of innovating, you will get to dig into the challenge of "ReThink Retail – A challenge based on designing a sustainable and prosperous future for European Shopping Malls".
Program (please check carefully that you can make it, when applying!)
The program encompasses 2,5 days in Stockholm to ensure enough time to dive into the problem, develop solutions and network with your peers and the involved companies and organizations.
Reception @ The Embassy
On 8th of February, you will be invited to a reception at the Dutch Embassy in Stockholm, where you will be received by the ambassador of The Netherlands to Sweden, the Innovation Department, your design-thinking process manager and Unibail Rodamco Westfield.
Here, you will also meet your fellow Swedish, Danish and Dutch students for the first time and learn who will be in your team for the next two days.
ReThink Retail@ The Embassy and site visit Westfield Täby Centrum
On the 9th of February, you will start working on the challenge, guided by us, until your team is able to come up with concepts of solutions that could be implemented in practice.
Here, you will get introduced to key concepts of retail and its future as well as be introduced to the principles of design thinking before heading off to a field visit to Westfield Täby Centrum – A shopping mall that is extremely established among its locals for quick errands with the potential and aim to play an even bigger part in the everyday life of existing and future Northern Stockholmers.
Workshops, mentoring and pitches
Throughout the days, you will also be engaged in several workshops to support your team in developing viable plans and receive mentoring to ensure that your solution has the potential to be applied in practice.
On the last day, every team will pitch their solutions in front of a handpicked jury consisting of URW, the embassy and other relevant individuals.
Prize
All students will have contributed to the solution of the European problem and be able to add this experience as an entry to their CV.
On top of that, every member of the winning team will receive 2 very special prices:
Paid internship at Unibail Rodamco Westfield in your country of residence (NL, DK, SWE)
A direct invitation to an interview for URW popular Traineeship program that includes an in-depth look into URW various departments and one term in a country abroad
Who can take part? 
All Master students in their final year studying at a Danish, Swedish or Dutch university, applied university or business school can apply for this challenge.
No deep prior knowledge is required. Bringing a fresh mind and a good motivation for the topic is all you need.
Applicants are required to have a working permit in at least one of the countries mentioned.
How many students will be selected?
For this challenge, the 24 students with the best applications and CV across different disciplines and countries will be selected.
We expect participation to be popular and therefore, early applications are encouraged.
Why participate?
Help to solve a real life problem
Network with like-minded peers and interesting companies
Develop design-thinking, challenge-based learning and multi-disciplinary team work skills that make you more attractive for future employers
Explore Stockholm – The Impact capital of the world
Win an internship at URW in your country
Secure yourself an interview and skip the queue for URW desired traineeship program
Embassy of the Kingdom of The Netherlands, Götgatan 16A, 118 46 Stockholm, Sweden.
Accomodation
Your accommodation will be announced upon selection.
Cost
All costs are covered.
How do I apply?
Your application includes a well written motivation letter and CV to be sent to katarina.soderstedt@urw.com.
Curious to see an impression from a similar challenge arranged last year?
See: Groningen Uppsala (GroUp) Student Challenge 2021 and GroUp Student Challenge 2.0.
Registrations are welcome until Monday January 2nd 2023, 23.59 hours. Confirmation follows ultimately on Monday 9th of January.